Tjapukai Aboriginal Cultural Park
At Tjapukai Aboriginal Cultural Park you can get hands-on experience throwing Boomerangs and Spears and learning to play the Digeridoo. Additionally, sit back and relax as Local Native Aboriginal Performers tell stories, give demonstrations, and entertain you with traditional dances!
With the AM option, one can enjoy a delicious buffet meal (extra cost) whilst watching a special indoors, choreographed performance on stage at the Flame Tree Bar & Grill.
This extremely modern facility is a must-see when visiting Cairns and indeed Australia.
Tjapukai Aboriginal Cultural Park (AM or PM Tour)
Adult: $85 Child (4 to 14 year old) $ 55 Family $225
Inclusions:
– Hotel pick up and drop off
– Entry to Tjapukai Aboriginal Cultural Park
– Entertaining commentary
– Choice of AM, PM departure
AM Tour: Departs Cairns 8:30am Returns Cairns 12:45pm  BOOK NOW
PM Tour: Departs Cairns 1:15pm Returns Cairns 5:15pm  BOOK NOW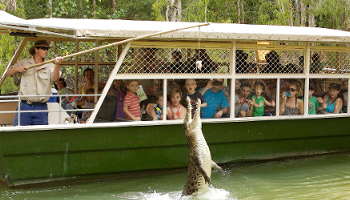 Hartley's Crocodile Adventures and Tjapukai Aboriginal Cultural Park
Adult: $155 Child(4 to 14 year old): $93 Family: $403
Inclusions:
– Hotel pick up & drop off
– Entry to Hartley's Crocodile Adventures & Tjapukai Aboriginal Cultural Park
– Enjoy all activities at Tjapukai & Shows in Hartley's
Departs Cairns 8:30am Returns Cairns 5:15pm  BOOK NOW
Kuranda by Train and Skyrail and Tjapukai Aboriginal Cultural Park
Adult $204    Child (4 to 14 year old)$117    Family $525
Inclusions:
– One-way ticket of Kuranda Scenic Railway
– One-way ticket of Skyrail Rainforest Cableway
– Entry to Tjapukai Aboriginal park
– Cairns Hotel pick up & drop off
– Entertaining Commentary
Departs Cairns 8:30am Returns Cairns 5:15pm
BOOK NOW